5
mn read
Words can seldom describe the beauty of the beloved bird, the Flamingo. With their amazing shades of pink, they outstand their surroundings, making a perfect moment worth capturing. Flying over vast distances in search of warmth and bringing in the doze of seasonal happiness, these birds can now be part of your home and continue to make you feel pleasant throughout the year.
Let us check out some of the beautiful flamingo wallpaper and murals that will create a perfect blend for your room's natural theme.
Flamingos

In Love
A lovely couple of flamingos basking in the tropical forest on a bright day with a cloudy blue sky. Colourful plants in the foreground and background seem to grow randomly yet clearly highlight the tall pink flamingos. A perfect wallpaper for your living room, bedroom or even your kid's room.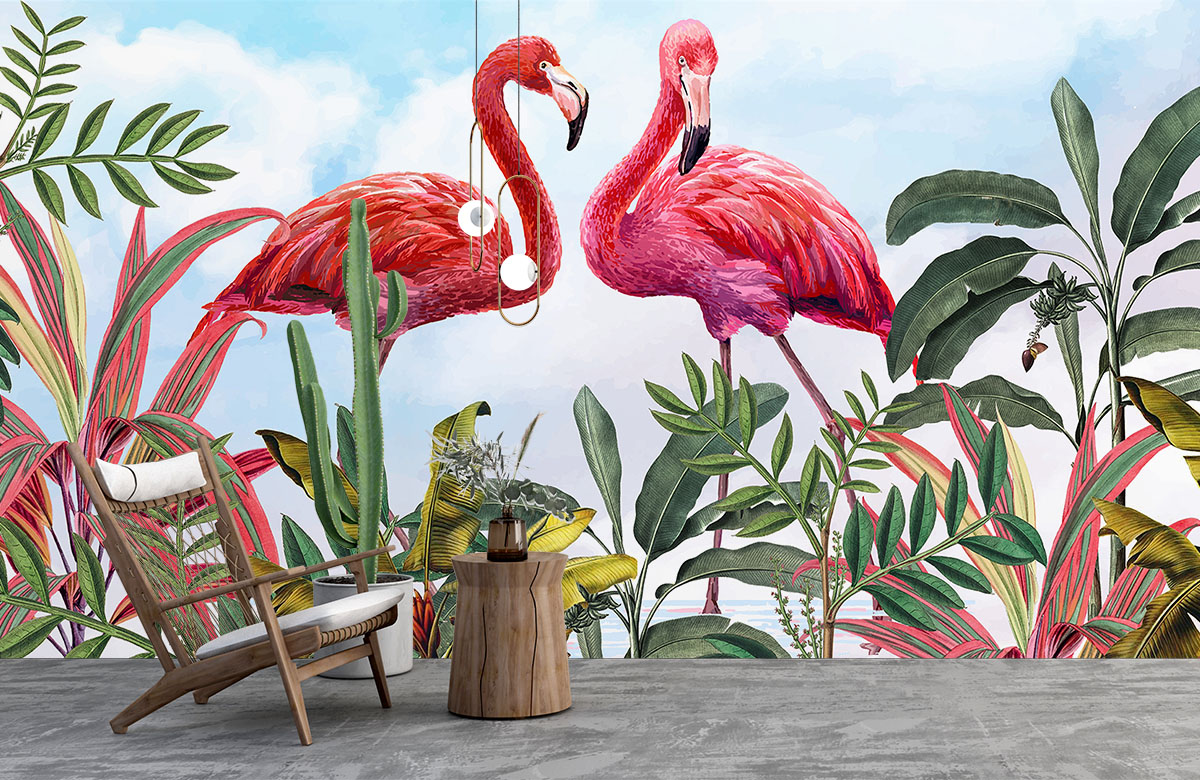 2.     Pink Flamingo In A Jungle
A lush green tropical forest with a bunch of flamingos basking in the sun. various plants and their unique leaf design adds to the already rich colour blend of this wallpaper. Flamingos in their slightly varied poses are beautifully highlighted by colourful flowers.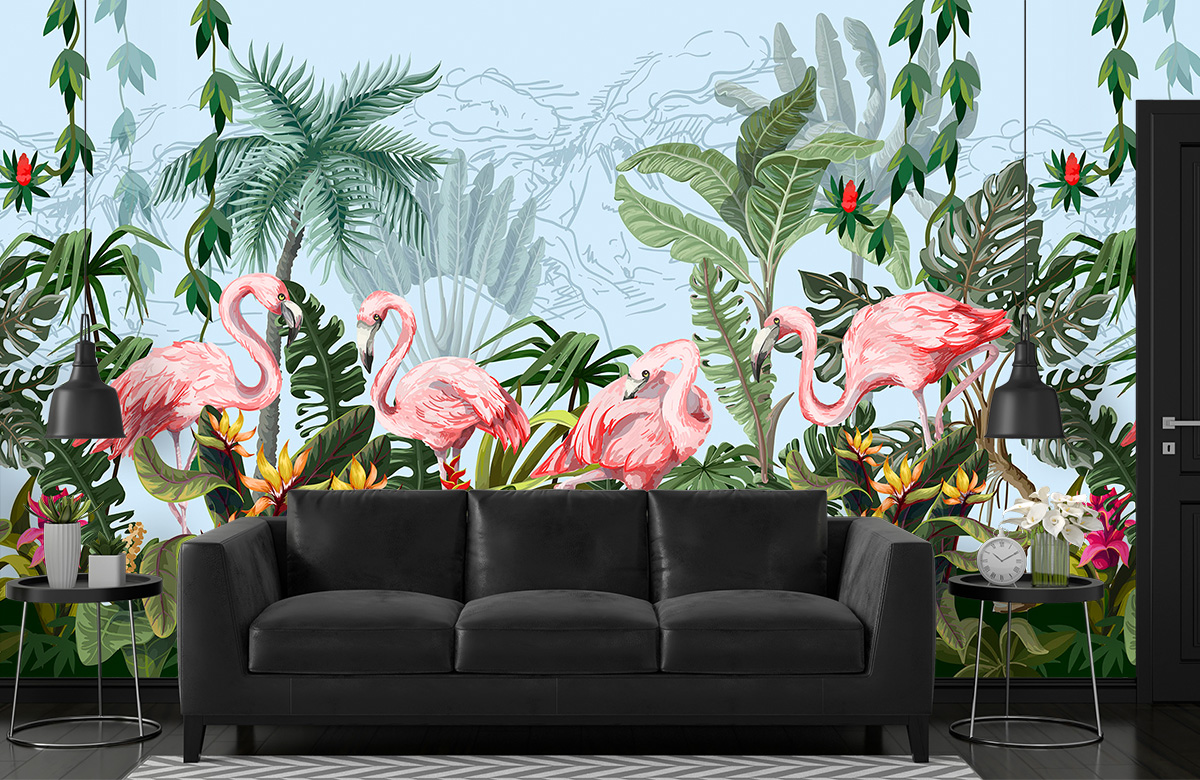 3.     Foggy Lake View
It's early morning and flamingos are already out having their breakfast. A wallpaper design that can give a lovely view to wake up to every morning. Be it your bedroom or the dining room wall mood-enhancing wallpaper with beautiful flowers and plants are in the perfect shade of pink. A perfect blend of tropical and flamingo wallpaper.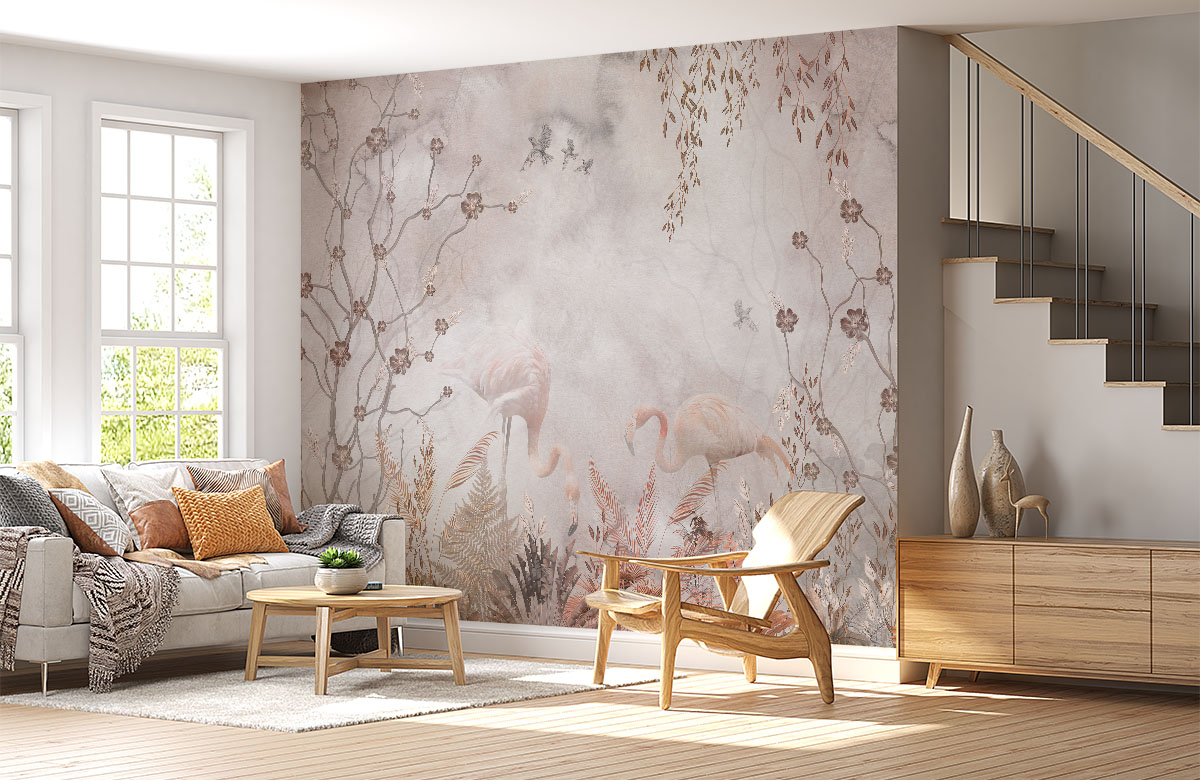 4.     Flamingos Hide Out
It doesn't get any better than this beautiful view of a couple of flamingos in a calm secluded tropical forest. Different tropical leaves grow randomly in the forest with flamingos right in the middle enjoying the warmth. A huge backdrop of pastel blue shades is certainly meant to complement the overall theme of your room.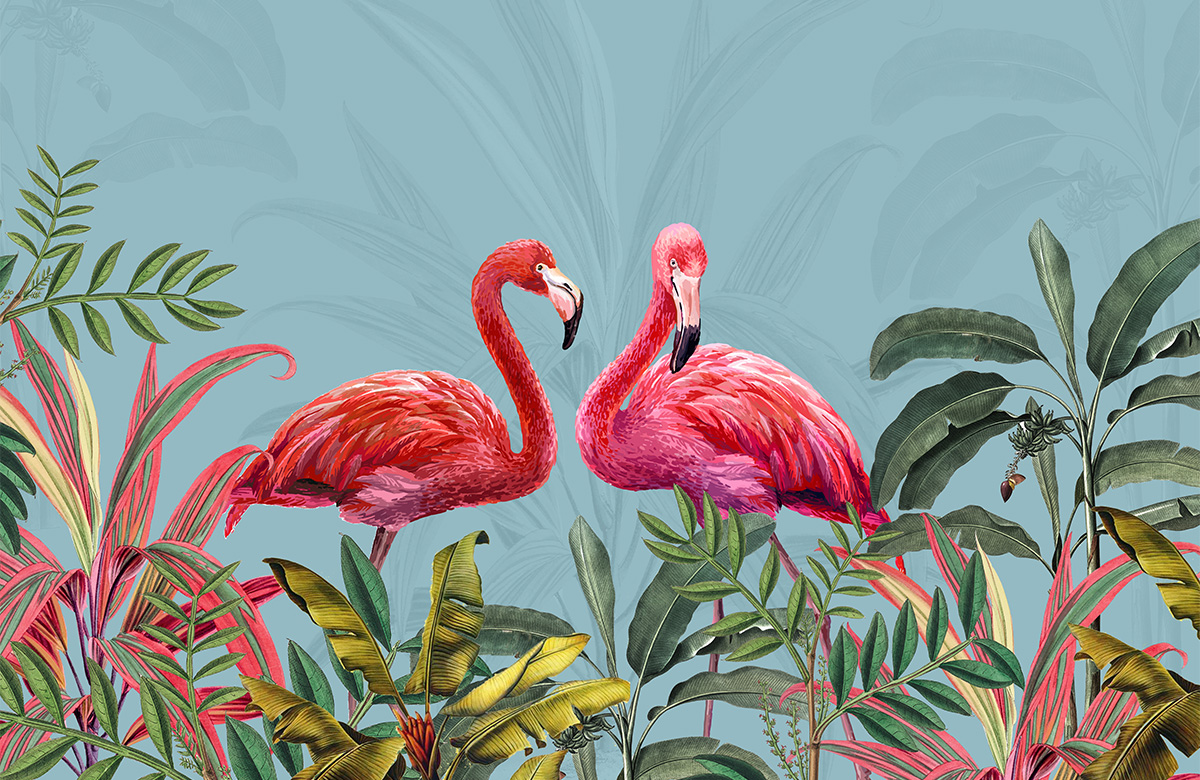 5.     The Flamingo Family
Flamingos don't just make great murals but also come in amazing seamless repeat pattern designs. Something as simple as just flamingos and tree leaves can set the mood right. Brighten up your room with a lighter shade or cozy it up with a dark background colour. this repeat pattern is the perfect way to give your room a lovely touch of flamingo charm.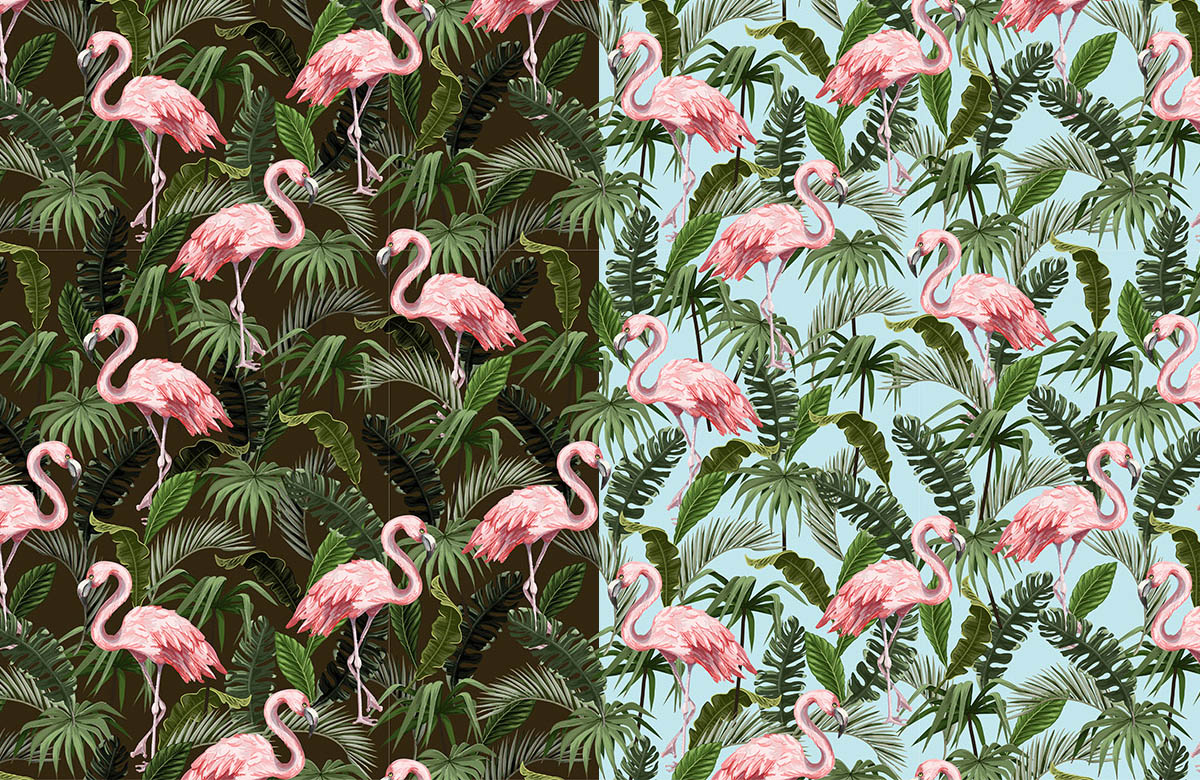 6.     Colourful Illustrative Jungle
Want to go beyond just the flamingos? Then let's bring in the whole forest. The flamingo, red parrot aka scarlet macaw, and Toucans with zebra, monkey and leopard are all here to create a perfect tropical forest mural. Let this get together on a bright blue day or on a dark moonless night. They all bring their charm. Combined with large leafy green trees and colourful plants this lovely design is likely to make you stare at it for a while.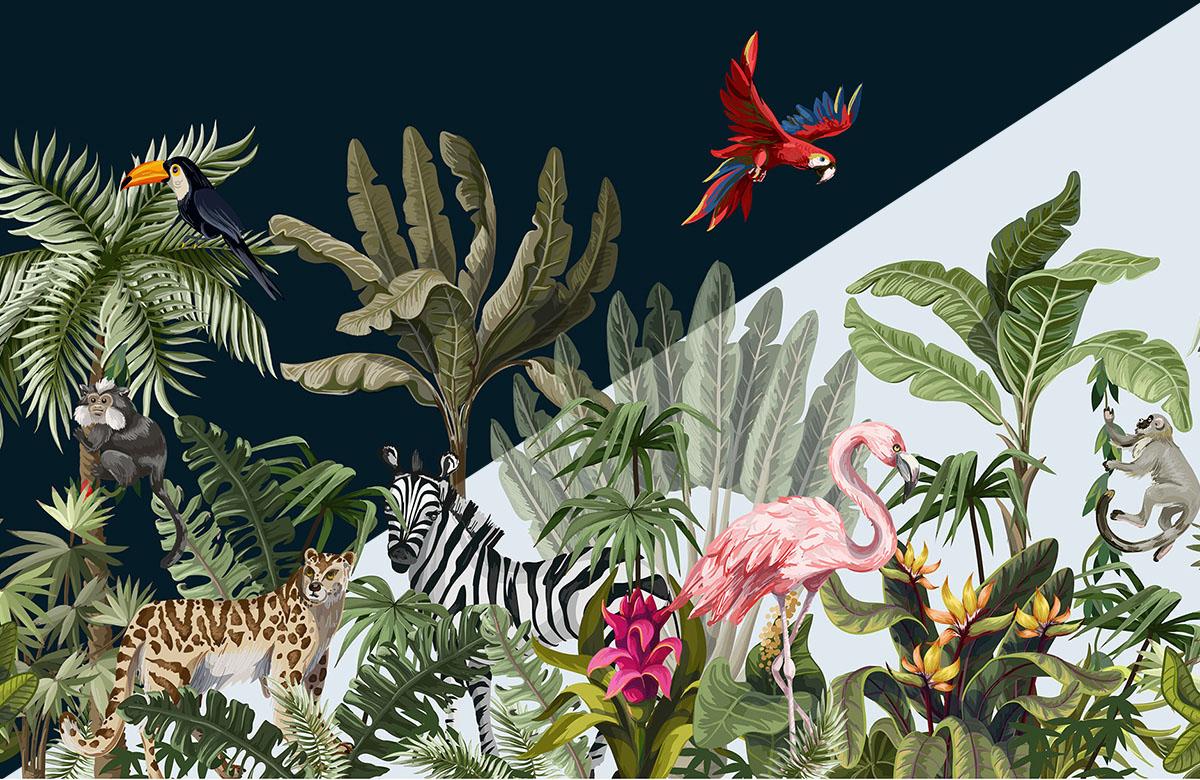 7.     Jungle After Party
Flamingos with other pleasant creatures of the forest don't just come in murals. Check ou this jam-packed repeat design wallpaper with flamingos, scarlet macaw, leopard, zebra, monkey and a cute snail by the plan leaf. It this group wasn't enough the bunch of different leaves, flowers and fruits make it the superb jungle-theme illustrative wallpaper. Pick your choice for the backdrop colour to either lighten up with a light blue shade or create a snug space with a dark colour.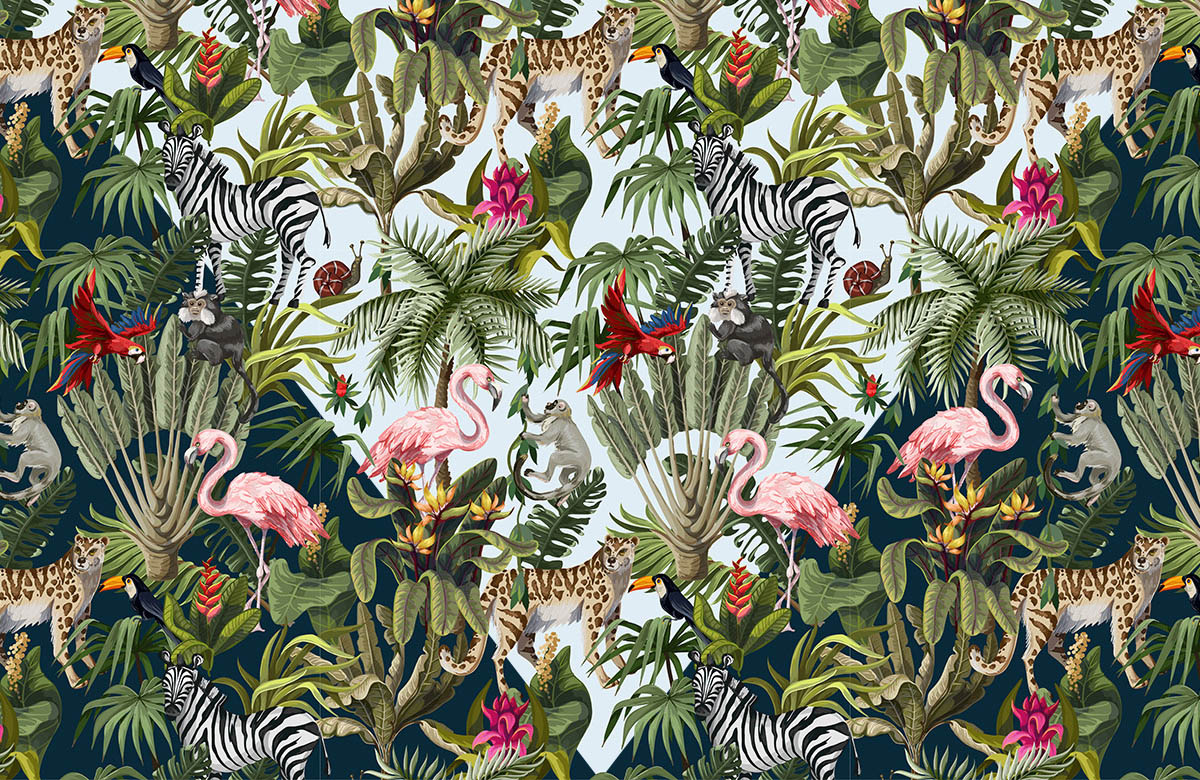 8.     The Jungle Party
If a flamingo in watercolour design is what you are looking for a design like this can be for your consideration.  A rhino, giraffe, toucan, elephant and lemur in the savannah this jungle party is a great drawing in pure watercolour. Long tall banana trees on the sides with protruding branches and a few flowers give your kid's room a sweet touch of nature. With a little touch of customization get your kid's name added in there to give it an absolute personal touch.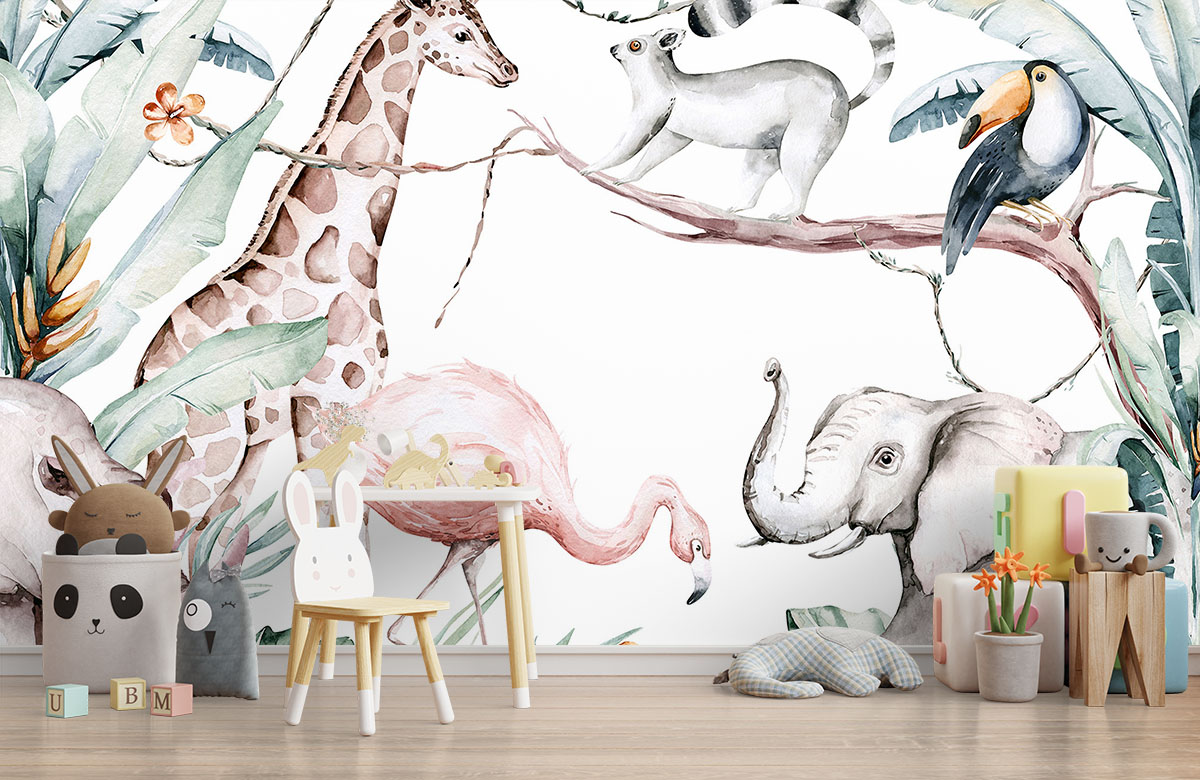 9.     Tropical Paradise
What happens when all things delicious come together? A tropical paradise. Flamingo, Parrot, ice creams, pineapple, watermelon, flowers, cherry, heart, confetti, sun, cactus, and whatnot. You name it and it's there in this repeat design wallpaper. In a perfect cream shade with its textured feel. It is the perfect way to décor your kid's room with flamingo-themed wallpaper.
10.  Happy Jungle Get Together
Are you looking for a mild, pastel tropical view with flamingos going about their daily business along with the rest of the jungle residents? Then a design like this is something you should have a look at. Beautiful background of a smoking volcano, tall coconut, banana and other trees with beautiful toucan, flamingo, hornbill, monkey chasing bananas and grazing zebra in the middle of dense leafy forest could be the mural you are looking for.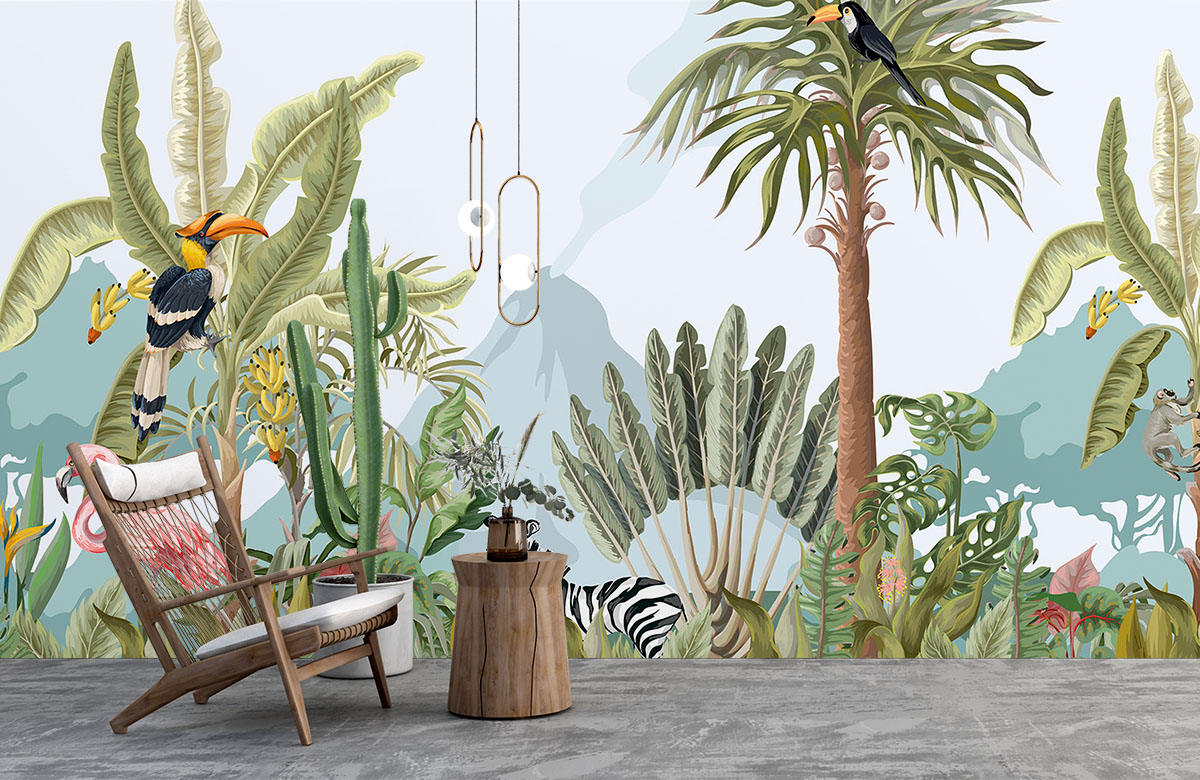 11.  Birds Only Party
Here is a trio of flaming, scarlet macaw and the toucan, this seamless repeat pattern wallpaper is a perfect pick for exotic birds only lovers. In the middle of the dense green forest with a dark background, a design like this will set your mood right.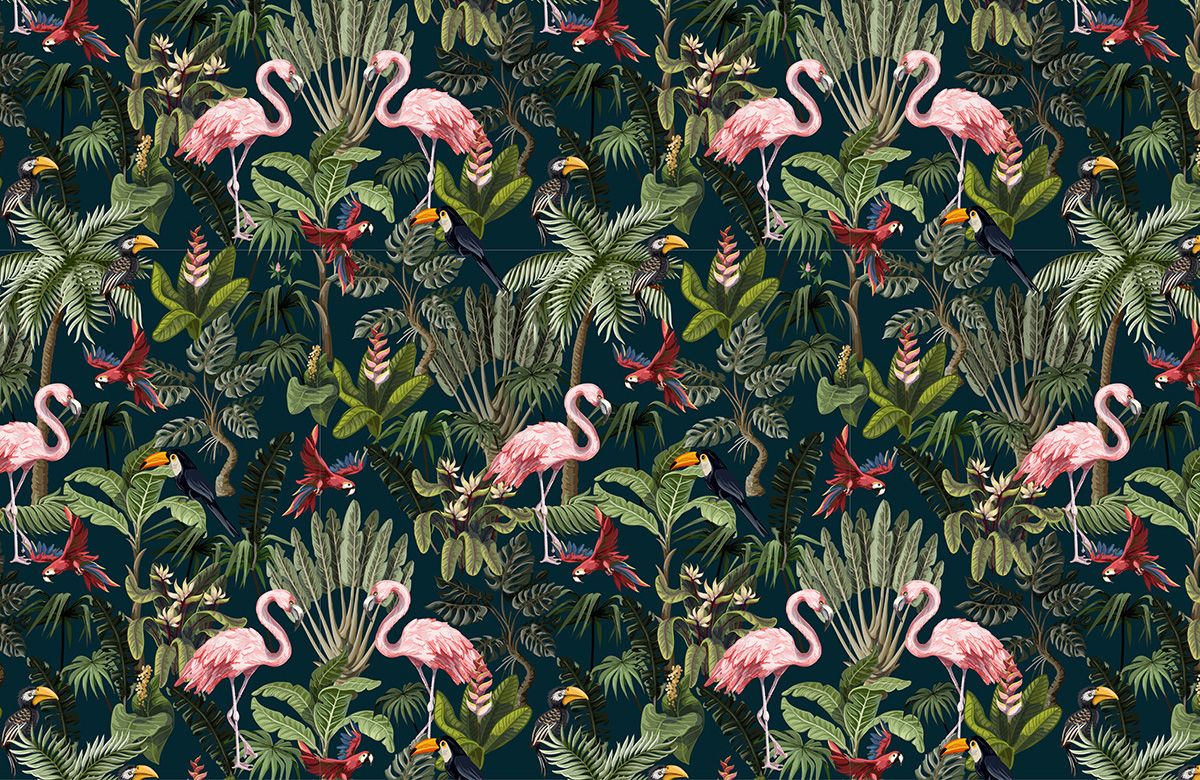 Selecting the correct design is the first step done right. Remember that to ensure great delivery of the selected design the wallpaper is printed with top-quality and eco-safe material. Our selection of flamingos is from Morphico, a marketplace for wallpaper and murals. 
We hope these designs have inspired you and reaffirmed your decision for flaming wallpaper and murals for your beloved space.